My most favorite thing to do on a Monday is to go to my good (and local!) friend Selena Cate's blog to see what awesome things she found over her weekend of thrifting. Thrift Share Monday on her Apron Thrift Girl blog not only shows what and how she found her treasures, but includes links of many of her readers's finds from the weekend. Selena's a total pro, and she shares a LOT of great ideas and techniques for finding and making the most out of thrift store, garage sale and estate sale finds.
Saturday, while my daughter Jamie was warming up for her All-Star baseball game in Sebastopol, CA, I took a jaunt over to a fun little thrift store benefiting Hospice. I found this darling little antique cuckoo clock for $3.
It's missing the pinecone weights, and doesn't really work, but it was so stinking cute with a mamma bird feeding her babies, I had to bring it home for my studio.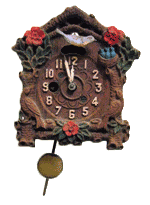 You can enjoy it as well by grabbing my very amature animation for your blog by clicking on the image to access the HTML code for adding it as a blog gadget or into a blog post. Sorry, but with this clock, although it's always wound, time continues to stand still.